Dental implants in Milton Keynes
If you're looking for top quality, effective, long lasting and affordable dental implants in Milton Keynes, then our highly skilled implant team can help.
Why choose us for your dental implants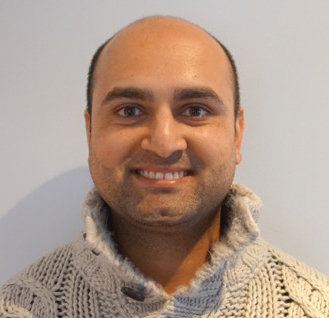 Our team of dentists and surgeons are highly experienced in providing the best quality dental implants in Milton Keynes at a truly competitive price.
Our expert dental implant team is led by Amit Patel (GDC No 176925) who has over 10 years extensive dentistry experience and believes that everyone deserves to have the best smile possible, citing patient satisfaction as a motivating factor in his work. See more about Amit here.


Our practice is monitored and regulated by the Care Quality Commission (CQC) and our dentists are all registered with the General Dental Council (GDC), so you can rest assured you are in safe hands here at MK Dental.
Latest technology
At MK Dental Practice we work with the latest dental technology to give you a pain-free cosmetic style transformation at our state of the art implant clinic.
If you are looking for dental implants due to missing teeth or difficulties with smiling or chewing, there are a few things below you should consider to ensure you receive the highest quality service and most cost effective treatment.
Dental implant costs in Milton Keynes
Dental implant costs can vary depending on the type of dental treatment required. We offer a full range of affordable, high quality dental implants from just £1,800 including a free consultation.
Patients can also benefit from our 0% finance options and spread the cost over 12 months.
Dental Implants Before and After
The images below show the before and after pictures for a local Milton Keynes resident.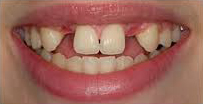 Before Dental Implants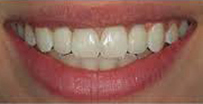 After Dental Implants
What are dental implants?
Dental implants are natural feeling artificial teeth, which are fused with your jawbone by a titanium screw to replace the root of one or more missing teeth.
This is normally due to periodontal disease or injury.
If need to see an expert about replacing a lost tooth or missing teeth in Milton Keynes, there are two types of dental implants we provide at MK Dental Practice:
Endosteal implants – these most commonly used implants come in the shape of cylinders, screws or plates and are implanted directly into the jawbone.
Subperiosteal implants – best suited for patients with shallow jawbones, these implants consist of a metal frame that is fit under the gum, on or above the jawbone.
Dental implants also come in different sizes and heights. At MK Dental Practice, Milton Keynes, we will choose the option that suits your needs best, depending on the tooth or teeth that need replacing.
How do dental implants work?
Dental implants are fused to your jawbone beneath your gums to provide stable support for artificial but natural feeling teeth.
With the secure fit of dental implants, dentures or dental bridges mounted to implants will not slip or shift. This will ensure comfort and confidence when eating or speaking.
Further, individual dental crowns placed over implants will feel more natural than standard bridges or dentures.
Benefits of dental implants
There are a number of advantages for choosing dental implants:
Dental implants will not compromise your adjacent teeth. Your new replacement teeth will hold in place on their own without the need for neighbouring teeth to be grounded down
Unlike bridges, dental implants will not be anchored to other teeth
Unlike dentures, dental implants will never come loose
How long do dental implants take to fit?
Dental implants are fitted in two stages:
The first stage is to fit the abutment (or titanium fixture) into the jawbone. A temporary implant, matching your smile, is fitted to the abutment while we wait for the titanium fixture to settle and heal. This is a same day procedure, requiring only a local anaesthetic.
The second and final stage is to fit a permanent porcelain tooth that fits your smile perfectly.
Find out more about implants
If you are feeling self-conscious because of missing teeth and looking for a permanent solution, contact us to book a FREE dental implant consultation today on 01908 231888.
Dental Implant Review via Google My Business
Dental Implants Reviewed by Chris Gardner on "I can highly recommend this dental practice for all of your family. I followed Dr Amit Patel over from Luton when we relocated to MK as I wouldn't want to go to any other practice now.

I've had extensive treatment done in the past including Implants and my wife has had a veneer - the quality of treatment has been top class and the cost was very reasonable compared to other quotes I had at the time. My children have seen both Amit and Dr Parin Sheth and they have been really great with both of them also, taking the time to put them at ease.

It really is a practice for the whole family! :)"
Rating: 5